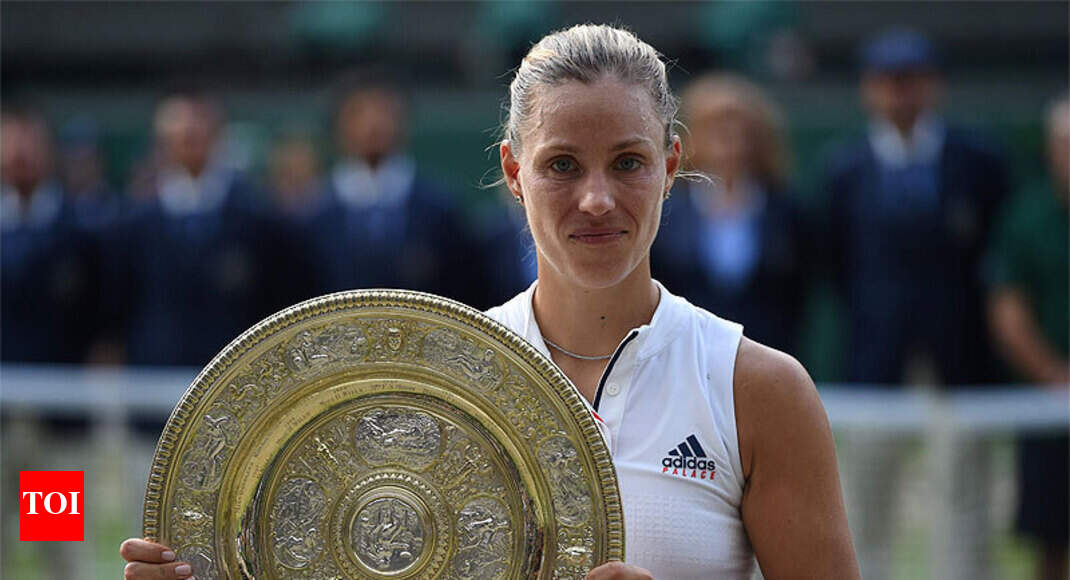 LONDON:
Angelique Kerber
wasn't tipped for the title nor was she talked about. Not that the 30-year-old asked to be. On Saturday, the German was efficiency on a pair of strong, athletic legs, speeding away to memorable first
Wimbledon
crown. "I'm happy that I won the match," a beaming Kerber said of the final where she subdued the heroic American
Serena Williams
, before stressing, "she did not lose the match, I won the match."
ALSO READ: Kerber stuns Serena to win maiden Wimbledon title
So much for opening statements, but Wimbledon's 11th seed is no stranger to big stages. In 2016, she beat Williams in the final of the Australian Open and again triumphed in New York to become the game's oldest first-time No. 1. But Kerber struggled with demands of being queen of the court and she hit a drought in 2017 and dropped out of the top-10.
"This victory is a completely new feeling. In 2016, everything started, I won my first Grand Slam," Kerber said. "Here, especially after 2017, when nobody was expecting me back so strong, to come back and win my third Grand Slam, win Wimbledon, which was always my dream… Two weeks ago, nobody expected I can go so far. I was trying to stay focused the whole two weeks, every single day, trying to improve my tennis, trying to stay in the moment. I played two good weeks of tennis for myself."
Kerber, now a three-time major winner, has often spoken about coming back from 2017. "I learned a lot from last year, with all that expectation. I learned so many things about myself, about the things around, how to deal with it, how to make my day, my schedule. Now I try to enjoy every single moment, I just try to improve my game, not think too much about results. Also, to find the motivation after 2016 was amazing. I thought to make again such a year is impossible."
Kerber, who'll be back in the top-5 of the rankings on Monday, said age and her ability to learn from experiences has played a big part in her success. "I've had so many experiences over the years. I know the feeling to go out there in the semifinals, then play the final. I know what to expect. I think that helps me also to be a little bit more relaxed. To go out and focus on my match, not thinking that's the final, that it is Wimbledon. It's experience. You have to go through all the things, good and bad things, then you need to learn from it."
The 30-year-old said winning Wimbledon was her first tennis dream. "My first memories were watching Steffi Graf winning all the matches. I remember when I was watching her, that everybody was playing in white on the grass court," Kerber recalled. "Then I came here for the first time playing the juniors. I was feeling from the first point so good on grass."