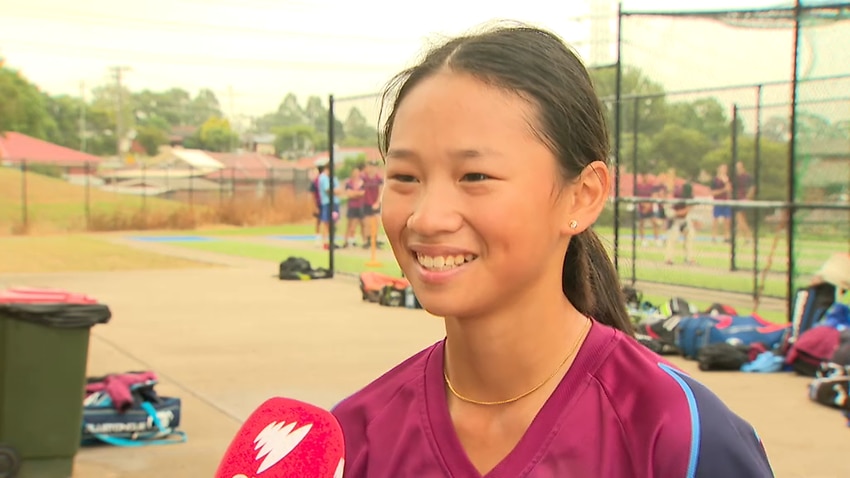 Elsa Hunter's 14th birthday was a little different from most teenagers' – batting for the Malaysian national women's side, she scored her highest ever T20 score – 42 not out – in Thailand, at the World Cup Asian qualifiers.
"If any girls think they can't do it because the boys are saying 'girls can't play cricket', don't listen to them," she told SBS News.
"I want to keep the flow going, and help Malaysian women rise up."
At just 13, Elsa was selected to join the Malaysian cricket team – making her the youngest person ever to play international cricket at senior level.
The team is based in Malaysia, but Elsa, who lives in Penrith, trains in Sydney and flies out for matches.
Being a teenage cricket star puts her in good company.
Sachin Tendulkar, the man regarded as the greatest batsman of all time, played his first international match for India when he was just 16. 
"It makes me feel like I have hope, maybe one day I'll get to play for Australia. People like Sachin, he's just so good," she told SBS News.
"He started playing international when he was 16, it's pretty amazing."
Traveling for matches means being away from home, but she has the full support of her parents. 
"I'm very proud of her, all the effort she's put in, and she's still learning," Elsa's mum, Mimi Hunter, said.
"When she is away, we are a bit nervous, we check on her, make sure she's doing well, and eating the right food."
Her father Jim helps with Elsa's training.
"She is dedicated, and a lot of kids have got potential but they don't have the dedication to achieve," he said.
The family migrated from Malaysia five years ago and Elsa became interested in cricket almost as soon as she arrived.
"In primary school, the boys would play, but they made me just stand in the field," Elsa said. 
"It made me really sad, so I asked if I could buy my first cricket bat, and my mum and dad said I had to earn my own money."
Apart from training most days of the week, Elsa also watches Youtube tutorials by some of Australia's greatest players – but there is one player who she would love the opportunity to meet.
"I saw [former Australia captain] Steve Smith at training once, and he works really hard," she said.
"I want to be like that to play for Australia."