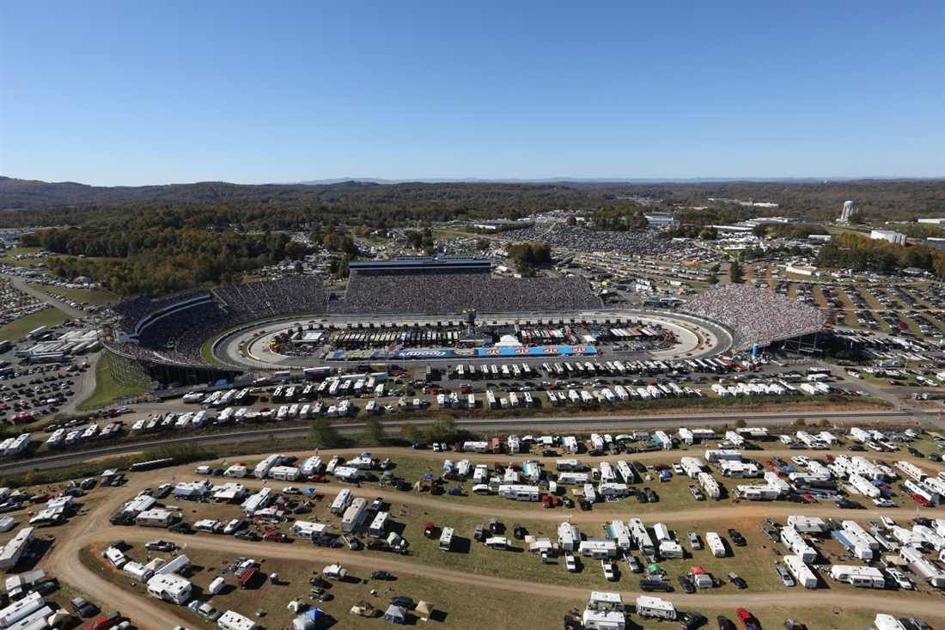 The colorful crowds, the traffic and the out-of-state license plates will be obvious. There may be longer waits at a favorite restaurant. And when the haulers truck down U.S. 220 this week, a detour may be required.
Clint Bowyer  and Joey Logano will line up for another start on an oval where they both won important races last year, and some driver's fate for the season or his career could be rewritten at The Paperclip this weekend.
Those are the obvious and tangible impacts of when NASCAR visits its oldest stop for the truck and car races that will attract 10s of thousands to Martinsville International Speedway on Saturday and Sunday.
That's a big deal for any town, but these races are a really big deal for the smallest city on the circuit. If you are one Henry County's roughly 50,000 residents, on a racing Sunday you might feel like a million bucks.
That's because in addition to making your chest swell with pride, these races stuff a lot of dollars into the economy for the region and the state.
Just how much is not so obvious.
The last time anyone tried to calculate that impact was a decade ago, when a study by the Washington Economics Group said ongoing operations at the Martinsville International Speedway generated about $170 million annually for the state.
The study broke down that figure to $68 million in labor income each year and $104 million in "value-added impacts."
"Value-added is the portion of business revenues that is available to pay compensation to workers, capital income and indirect business taxes," the report said. "Value added is also the principal source of income to households and a key measure of Martinsville Speedway's contributions to the Virginia economy.
The report said a little more than a third of that value was added by $39 million in what it called "knowledge-based services sector" and 23 percent from $23 million generated by the state's "visitor industry."
None of that includes retail or wholesale sales, transportation or government, although it said the speedway generated $30.8 million in tax revenue for the nation ($17.7 million) and state ($13.2 million).
But all of that was calculated in 2009.
Allyson Rothrock, president of the local nonprofit The Harvest Foundation, offered figures about more recent impact.
"According to Virginia Locality Economic Impact data provided by the Virginia Tourism Corp., our local economic impact from tourism rose in every category from 2013 to 2017," Rothrock said in an email. "In 2017, Martinsville-Henry County had more than $70 million in direct spending from travelers, including lodging, transportation, entertainment, and recreation. This represents a nearly 3 percent increase from 2016."
A significant portion of all that impact is those booked-up hotels and restaurants.
"With regard to hotel/motels — all are usually completely filled with most reserved a year in advance (people book rooms in surrounding areas as well) and people utilize online sites such as AirBnB, VRBO and we have several bed-and-breakfast-type facilities that cater to race fans," Rothrock said. "Restaurants — most restaurants take full advantage of the extra visitors in town and see an increase in sales; gas and other purchases — I am certain our gas sales are up for any speedway event as gas is typically cheaper here than neighboring states (North Carolina).
"Visitors coming to the area — the speedway has ticket holders from across the nation and I would expect from different countries; vendors travel from all parts of the country."
The impact is significant, however,  for the community. "Taking into account all of the support businesses and services that come into play — printing, catering/food services, beverage sales, parking, souvenir sales, groups working concessions, etc., etc. …It's a huge economic engine for this community," Martinsville City Manager Leon Towarnicki said.
Specifics were not immediately available from Martinsville government officials about how much revenue the speedway's big racing weekends generate for the city, and County Deputy Administrator Dale Wagoner said the county can't narrow down to the specific days of race weekends and definitively say how much the county receives from sales, meals and lodging taxes then.
"The racetrack does pay considerable real estate, personal property, business, and machinery and tools taxes," Wagoner said.
Linda Love, Henry County commissioner of the revenue, broke those down like this for Martinsville International Inc.:
Personal property assessed value, $2,029,389; tax $31,455.54.Real estate  assessed value, $5,306,300; tax, $29,450.00.04.North Carolina Speedway Inc. also has an assessed value of $31,249,100 and tax of $173,432.51.
Brooks Taylor, director of public relations for the speedway, said that on big racing weekends the speedway has roughly 2,000 people working at the racetrack. Normally, the speedway has a full-time staff of about 16 year-round.
And that boost to employment includes the speedway's paying for services provided by state and county employees. Local governments also run up expenses in providing services.
 "The county does provide indirect support for emergency services operations during the race weekend," Wagoner said. "Our Public Safety and Sheriff's Departments work collaboratively to develop and implement emergency action plans relating to the races. 
"Sheriff's deputies are compensated directly by Martinsville Speedway, however, the deputies are allowed to wear a county-provided uniform, equipment and vehicles. (i.e. the cost of providing vehicles, equipment, and uniforms are indirect costs provided by Henry County).
"The Public Safety Department coordinates the overall emergency management activities during race weekend, which includes personnel, equipment and vehicles."
Said Towarnicki: "Martinsville doesn't contribute directly (monetarily) to the speedway in terms of funds, but there are a number of city employees who work race weekends in a variety of professional capacities helping to fulfill a wide array of needs/services related to an event of this type/size — security, traffic control, safety, etc."
And Linda Conover, director of finance for the city of Martinsville, said the city gives the speedway $3,850 annually as a sponsor for its annual Fourth of July celebration.
The state also provides services and coordinates with city and county governments on needs that range from handling hazardous materials to making sure appropriate emergency personnel are on hand.
"VDOT's direct costs are predominately overtime, and range from $10,000 to $12,000 per race," Lisa Hughes, resident engineer in Martinsville for Virginia Department of Transportation, said.
All those are tangibles, but when the cameras of Fox Sports focus on the track on Sunday, the measure of spreading the reputation of the city of Martinsville to the public marketplace is immeasurable.
Said Rothrock: "Exposure/publicity of the area on TV — of course regional and local media cover all activities at the speedway, evidenced by a bustling media center; events are broadcast on major TV networks and NASCAR radio; and other media — the speedway has a huge audience on social media, receives print and online press coverage, etc."