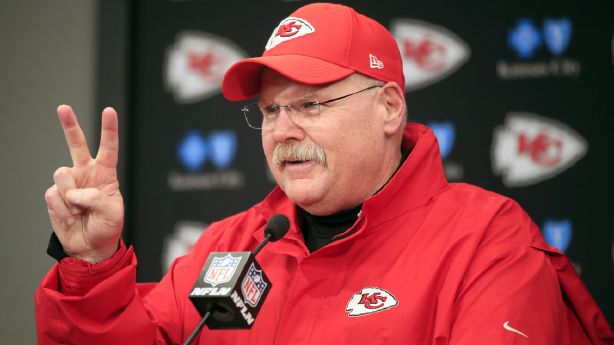 SALT LAKE CITY — The Kansas City Chiefs are one win away from the Super Bowl.
And they've got a BYU grad to thank for it.
Former Cougar offensive lineman Andy Reid, now the head coach in Kansas City, led the Chiefs to a 24-7 halftime lead en route to a 31-13 win that helped the Chiefs to their first win over the Indianapolis Colts in five tries in an AFC divisional game Saturday afternoon.
Of course, plenty of credit goes to the players — like quarterback Patrick Mahomes, who completed 27-of-41 passes for 278 yards, while playing behind an offensive line that allowed Damien Williams to run for 129 yards and a score.
Former BYU safety Daniel Sorensen made three tackles for the Chiefs, tied for the sixth-most on the team.
The Chiefs will host the AFC title game against the New England Patriots at 4:40 p.m. MT on Sunday, Jan. 20. The game will air live on CBS.
Here's how the rest of the locals in the NFL fared in the divisional round.
New England Patriots 41, LA Chargers 28
Former BYU linebacker Kyle Van Noy had four tackles and a pass defended for a Patriots defense that held the Chargers to seven points in the first half and cruised to the win.
Van Noy nearly had an interception off Chargers quarterback Philip Rivers, who threw for 331 yards and three touchdowns in the loss.
Ex-BYU cornerback Michael Davis had five tackles and a pass breakup for the Chargers, including three solo stops.
LA Rams 30, Dallas Cowboys 22
C.J. Anderson ran for 123 yards of the Rams' 273 yards and two touchdowns to lead the Rams past the Cowboys for their first playoff win since 2004.
Ex-Utah State receiver JoJo Natson returned two punts for 12 yards in the Rams' win.
Former Bingham tight end Dalton Schultz was targeted twice by quarterback Dak Prescott, catching one pass for 20 yards — plus one amazing pregame warmup routine.
The Rams will face New Orleans in next week's NFC championship at 1:05 p.m. MT on Fox.
New Orleans Saints 20, Philadelphia Eagles 14
Former BYU quarterback Taysom Hill sparked the New Orleans Saints to 20-unanswered points to rally past the Eagles.
The Pocatello, Idaho, native successfully converted a fake punt for the Saints, taking a direct snap in punt formation on fourth down for a 4-yard gain that led to Keith Kirkwood's 2-yard touchdown grab from Drew Brees.
That touchdown cut Philadelphia's lead to 14-7 midway through the second quarter.
Hill also had a 46-yard touchdown pass to Alvin Kamara called back for a holding penalty. He finished with two rushes for 8 yards, one assisted tackle on special teams, and was targeted on one of Brees' 38 pass attempts.
Former Utah safety Marcus Williams added two tackles for the Saints' defense.
Highland High alum Haloti Ngata made two tackles for the Eagles.
×
Photos