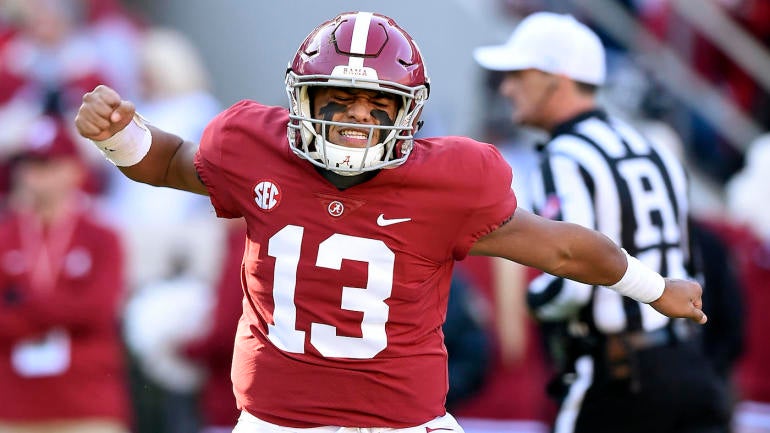 Week 12 of the college football season is by no means the most alluring Saturday slate that we've seen this season, but that doesn't indicate that the opportunity for chaos is completely out the window. No. 3 Notre Dame will face one of its toughest tests to date this season when it takes on Syracuse inside Yankee Stadium and No. 9 West Virginia travels to Stillwater to take on Oklahoma State, which are both contests that have the potential to shake up the top 10 of the College Football Playoff Rankings. It's not a top-to-bottom loaded schedule, but the potential for madness is always there. 
CBS Sports will be with you the entire day Saturday, updating this story with the latest scores, results, highlights, analysis and from Week 12. Be sure to check back early and often for predictions, the day's best plays and live GameTrackers covering all of the action. To manually refresh the page for the latest updates, just click here.  
Week 12 college football schedule, scores
All times Eastern
The Citadel at No. 1 Alabama — GameTracker
No. 10 Ohio State at Maryland — GameTracker
No. 12 Syracuse at No. 3 Notre Dame — 2:30 p.m. on NBC — Preview, picks
No. 9 West Virginia at Oklahoma State — 3:30 p.m. on ABC — Preview, picks
Missouri at Tennessee — 3:30 p.m. on CBS — Preview, picks
Indiana at No. 4 Michigan — 4 p.m. on FS1 — Preview, picks
Duke at No. 2 Clemson — 7 p.m. on ESPN — Preview, picks
No. 16 Iowa State vs. No. 15 Texas — 8 p.m. on Longhorn Network — Preview, picks
No. 24 Cincinnati at No. 11 UCF — 8 p.m. on ABC — Preview, picks
Arizona at No. 8 Washington State — 10:30 p.m. on ESPN
Click here for the full Week 12 college football scoreboard.
Check these out …
Alabama is tied … with The Citadel … at halftime
No. 1 Alabama might be looking ahead to Auburn next week and the SEC Championship Game vs. Georgia on Dec. 1. The Citadel is in Bryant-Denny Stadium this afternoon, and it's running up and down the field with that tricky triple-option. Bulldogs running back Dante Smith ran down the sideline from 45 yards out to score with 11:42 to play for the first points Alabama has allowed since the third quarter against Tennessee on Oct. 20. Each team went on to add a field goal, and now the game is somehow tied 10-10 at halftime. The Citadel would love everyone to know what it is doing to Bama right now. 
Ohio State down early to Maryland
Do the Buckeyes need to be on upset alert? Maybe so, as they're down 14-3 to Maryland early in their game. Terps running back Anthony McFarland already has two long rushing touchdowns that have embarrassed Ohio State's linebackers — a common theme this season. The Buckeyes have now allowed four 80-yard plays, tied for the most in the country.
Purdue rocks Tyler Trent-inspired lids 
One of college football's more inspiring stories this season involves Tyler Trent, a former Purdue student and passionate Boilermakers fan who has been stricken with terminal cancer. He was a major highlight of Purdue's stunning 49-20 upset over Ohio State and has been a source of motivation for the team. That motivation will physically be on display for Purdue's game at 3:30 vs. Wisconsin. The Boilermakers will wear one of four special designed helmets that say "Tough," "Unrelenting," "Courageous" or "Tenacious."