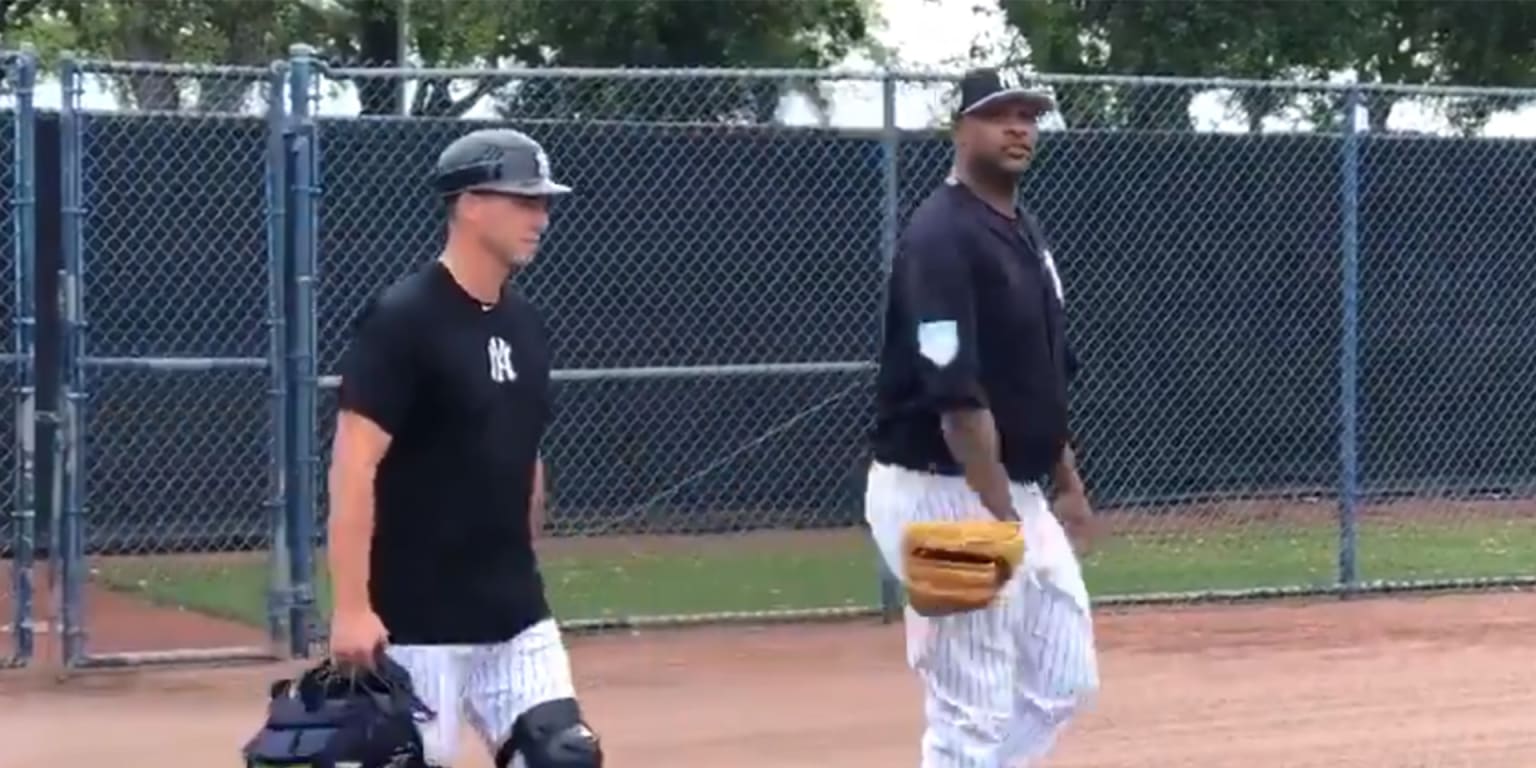 TAMPA, Fla. — CC Sabathia is moving closer to returning to a big league mound. The Yankees' left-hander threw 32 pitches in a simulated game on Saturday morning, his first time doing so since undergoing a heart procedure in December.
With DJ LeMahieu, Troy Tulowitzki and Kyle Holder taking hacks
TAMPA, Fla. — CC Sabathia is moving closer to returning to a big league mound. The Yankees' left-hander threw 32 pitches in a simulated game on Saturday morning, his first time doing so since undergoing a heart procedure in December.
With DJ LeMahieu, Troy Tulowitzki and Kyle Holder taking hacks on a practice diamond behind George M. Steinbrenner Field, Sabathia worked the equivalent of two innings, showing his stuff while Yankees manager Aaron Boone and pitching coach Larry Rothschild observed.
"He looked good," LeMahieu said prior to the Yankees' 17-7 Grapefruit League victory over the Blue Jays. "Same as I remembered him."
Sabathia had a stent inserted to address a blocked artery over the offseason, which delayed his return from arthroscopic right knee surgery performed in October. The Yankees expect that Sabathia, who has announced his intent to retire after the 2019 season, will be ready to pitch in Major League games sometime in April.
"I thought CC was good, and I thought he was better in the second inning," Boone said. "I thought his secondary pitches were good. I thought he threw some good sliders, some good changeups. I thought the ball was coming out good, and in the second inning, he tightened up his fastball command a little bit, made some good pitches to the lefty [Holder] with some two-seamers in."
CC Sabathia reporting for duty on Field 2. The big man is going to throw a simulated game this afternoon. pic.twitter.com/psnxBOrElH

— Bryan Hoch (@BryanHoch) March 16, 2019
Boone said that Sabathia's next outing could come in a game, though the Yankees may opt to keep him under simulated conditions in order to better protect his knee.
"We're obviously monitoring him really closely, so I know he's in good hands," Boone said. "I watch and try and pay attention to the knee as much as the heart. I feel like in my conversations with him since the start of all this, he's in a good place. He's trekking the right way and on pace to join us maybe a couple of weeks in."
Homer Happ-y
The Blue Jays cracked a couple of homers off J.A. Happ in the second inning of Saturday's Grapefruit League game, with Kendrys Morales connecting on a fastball over the plate for a two-run shot and Richard Urena surprising the hurler by launching a solo blast on a one-handed swing.
Happ allowed three runs in three innings, and he owns a 7.94 ERA this spring, having permitted 10 runs and 16 hits in 11 1/3 innings — including six homers. He has walked one and struck out 12. Happ said that he does not believe his spring numbers are indicative of his regular-season performance.
"I certainly hope not," Happ said. "I think you turn the page regardless of whether it's a good or bad [spring]. Obviously, you want to have some momentum going into the regular season, so I'm hoping to have maybe better results for the next couple. But it's nothing that I'm overly concerned about."
Happ said that he has been tinkering with some of his pitch grips and the shape of his offspeed pitches, adding, "I could definitely be sharper."
Cream of the crop
Right-hander Michael King and infielder Brandon Wagner were named the winners of the 2018 Kevin Lawn Award as the Yankees' Minor League "Pitcher of the Year" and "Player of the Year," respectively. The prospects received their awards prior to Saturday's game.
King, 23, combined to go 11-5 with two complete games and a 1.79 ERA in 25 games (24 starts) with Class A Advanced Tampa, Double-A Trenton and Triple-A Scranton/Wilkes-Barre. He led all Yanks farmhands with 152 strikeouts.
The Yankees' No. 12 prospect per MLB Pipeline, King recently resumed throwing after sustaining a strained right forearm flexor early in camp.
Wagner, 23, batted .267/.380/.461 with 68 runs, 21 doubles, 21 homers, 67 RBIs and 70 walks in 124 games between Tampa and Trenton. Among Yankees Minor Leaguers, Wagner ranked second in homers and fourth in RBIs.
Questions and answers
Tony Clark, the executive director of the Major League Baseball Players' Association, continued his tour of big league camps on Saturday morning by holding a two-hour meeting with Yankees players at Steinbrenner Field. Topics discussed included the rule changes that will be incorporated over the next two years and the overall state of the game, as well as concerns about free-agent activity in recent offseasons.
"[The meeting] has more to do with having the veteran players that we still have in the game — albeit not as many as we used to have before — sharing their experiences with the younger guys," Clark said, "and making sure that the younger guys understand and appreciate that whether you are a senior player or a young player, we are all links in a chain and have been since we formed our organization in 1966."
Bombers bits
Outfielder Aaron Hicks (stiff lower back) has not resumed baseball activities and is doubtful to appear on the Opening Day roster, though Boone said he believes the switch-hitter will be healthy enough to play in Minor League games by then. Hicks has not played since March 1.
Catcher Kyle Higashioka was optioned to Triple-A prior to Saturday's game, cementing Austin Romine as Gary Sanchez's backup. Higashioka, who turns 29 in April, batted .333 (5-for-15) with two homers and two RBIs in nine spring games.
Outfielder Jacoby Ellsbury (plantar fasciitis) is expected to report for Spring Training on Sunday. Ellsbury will undergo a physical and could perform baseball activities with the team, though Boone said it is unlikely that he will appear in a Grapefruit League game.
Up next
The Yankees have a pair of split-squad games on Sunday, visiting the Phillies in Clearwater and the Orioles in Sarasota. First pitch for both games is at 1:05 p.m. ET and can be seen live on MLB.TV. James Paxton will start against Philadelphia's Jerad Eickhoff, with Jonathan Loaisiga taking the ball against Baltimore's Mike Wright.